Over 1,000 advisers, sponsors and guests attended True Potential LLP's largest and most successful conference.
The event, 'New world. New possibilities' held 6 March at Birmingham's ICC, saw keynote speeches delivered by some of the industry's most influential and provocative speakers, including Jim O'Neill, chairman of Goldman Sachs Asset Management, Ian McKenna, MD of the Finance and Technology Research Centre, Eamonn Butler, co-founder of the Adam Smith Institute, and True Potential's Senior Partner Mark Henderson and Managing Partner, David Harrison.
Senior Partner, Daniel Harrison also gave guests an exclusive preview of the new V6 system that is due to launch later this spring.
Keynote Speaker Highlights:
* Ian McKenna told the audience how impressed he was with True Potential's technology. "I have yet to see any software firm in the UK offer anything that rivals True Potential's V5 platform, let alone V6. V6 takes us to a whole new level and is the only world-class adviser technology platform in the UK today," he said.
He also stressed the importance for IFAs to embrace mobile technology as part of their offering: "In two years time, if you    don't have a mobile proposition, you don't have a proposition at all."
*Jim O'Neill said he wanted to see increased confidence in the finance markets, describing the current economic difficulties as the 'most unnecessary crisis he has ever lived through'.
"People seem so worried about Greece, but China creates the equivalent of a new Greece, in GDP terms, every three months. Stop worrying about Greece and start exploring opportunities in China," he added.
*Dr. Eamonn Butler called for a re-think of the Government's approach to regulation, saying: "In my view, the regulator's role should be should be to make pensions and taxes easier to understand for the general population, when, in fact, they are becoming increasingly complex."
*David Harrison rounded off the day with a toast to those in attendance, thanking those who had helped make True Potential such a success – and stressed the importance of helping clients to identify clear goals.
"I feel humble in front of so many people who have helped contribute to our success, but there is more to be done. The savings gap is a huge challenge and most people are unaware of how serious a problem it is," he said.
"People need clear goals, and they need to be guided towards products that suit those goals. We believe True Potential can help them to achieve what they are aiming for."
Thank you to everyone who attended and helped make the day a great success.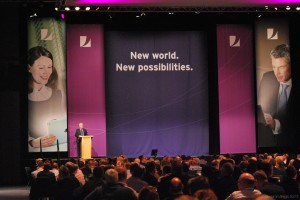 < Back to Blog